Metal Photo Prints for Interior Design: Adding a Modern Touch to Your Space
If you're looking for the perfect way to spruce up your home's interior in a stylish, modern, and sophisticated way, then metal photo prints are for you.
Metal wall art prints have been around for years, but it's only recently that they've begun making statements in homes around the world.
This comes as no surprise, though, since these stunning prints come with endless benefits (which we'll discuss later on) and have been proven to be a simpler way of raising the sophistication level of any space.
Superior to other prints, like acrylic or canvas, metal picture printing may require professional handling and expertise, but the end results are always worth it.
So if you're interested in learning how and why metal photo art is a worthwhile investment for your home's interior, we've got something for you.
Keep reading to learn more about these majestic artworks, including:
What makes them unique
Their major benefits and advantages
What our customers love about them
Where best to hang them
But first, let's define metal photo prints and explain their relevance in your home's interior.
What Are Metal Photo Prints?
Metal photo prints are high-definition art pieces digitally printed and transferred onto a sheet of metal panel, often aluminum, using three major techniques:
Direct printing: Involves printing a photo directly on a metal sheet without being absorbed into the metal.
Face mount: A print is mounted onto metal using transparent glue. It's used with both traditional and digital prints, even though it tends to fade fast.
Dye sublimation: Ink is infused into a special aluminum coating called ChromaLuxe using heat and pressure, and is then sealed to create a durable finish.
Premium prints (which are worth your purchase) use the dye sublimation printing method. This printing process is the best option available, thanks to its ChromaLuxe coating, which provides a permanent infusion.
This in turn gives every printed image a long-lasting protection and makes it more resistant to fading, the sun's UV rays, and water damage.
Shiny Prints believe in producing only the best quality prints that can be used both in the home and sold professionally by photographers and artists.
That's why we only use ChromaLuxe panels to produce durable metal photo prints that will not only make a statement in your home but be durable enough to serve you for years.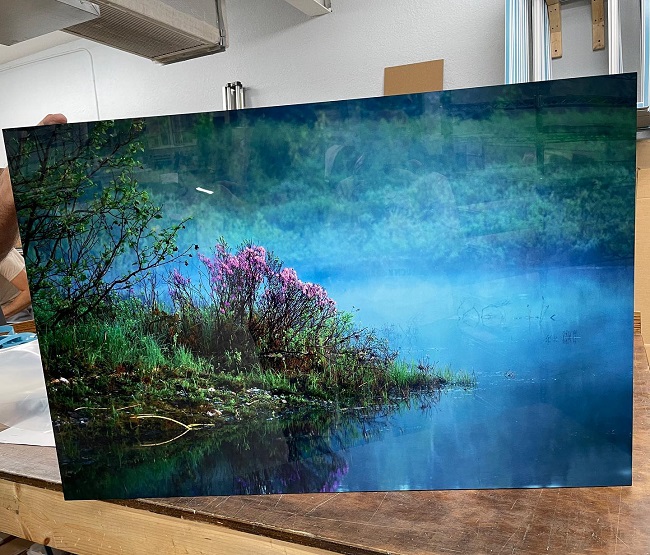 What Sets Our Metal Photo Prints Apart
Scratch resistant: Won't dent or scratch even when mounted in high traffic areas or left unframed.
Super lightweight: We use aluminum to make our metal photo prints. This metal is durable and lightweight, making the prints easy to carry and transport.
Waterproof: All our metal photo prints are can withstand rain and wall spillages, hence they'll last even when accidentally left in the rain.
Easy to customize: Prints come in all shapes and sizes, and can be framed or left unframed, as needed.
Why Should You Buy Our Metal Photo Prints?
High-quality finish: We only use the top of the line ChromaLuxe aluminum panels to print our images. This results in high-resolution prints with a brilliant finish and a broader color spectrum.
Will last you a lifetime: As long as the prints are firmly secured and dusted monthly, they'll remain in their pristine condition for up to 300 years.
Make great family heirlooms: Because of our prints' incredible durability, you can hand them down from one generation to the next.
Advantages and Benefits of Metal Photo Prints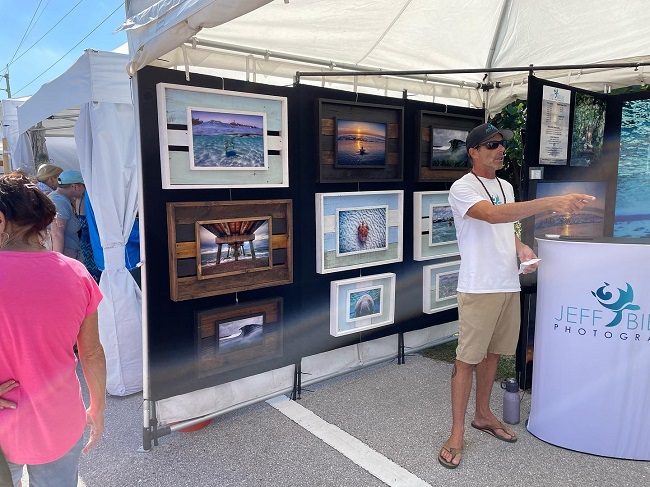 1 – Aesthetically Pleasing
At the end of the day you want a substrate that will make your prints stand out.
ChromaLuxe metal panels exude an undeniable aesthetic appeal with a stylish modern look and feel. They're impressively sharp, detailed, and more striking than any other type of print.
These high-definition picture prints will fit the style of any home and adapt to your personal preferences.
There're also no limitations to the images you can print and how you'll display them, since they look good whether framed or frameless (we also offer framing services for your metal prints).
2 – Superior to Other Prints
When it comes to print types, metal takes the lead.
Artists and photographers may (and still do) print their pictures on canvas, acrylic, and other high-end papers, but these images don't measure up to the clarity, vibrance, and quality of metal prints.
You'll see what we mean from the comparison table shown below.
| | | | |
| --- | --- | --- | --- |
| Comparison Feature | Metal | Acrylic | Canvas |
| Water-resistance | Highly resistant to water damage | Resistant to water and moisture damage | Easily damaged by water if not treated |
| Durable | Lasts up to 65+ years | Can last up to 15 years | Relatively durable |
| Area of use | Ideal for both indoors and outdoors | Most ideal for indoor use | Best used indoors |
| Fade-resistance | Does not fade | Easily fades | Slightly fades |
2 Common Features of Metal Photo Prints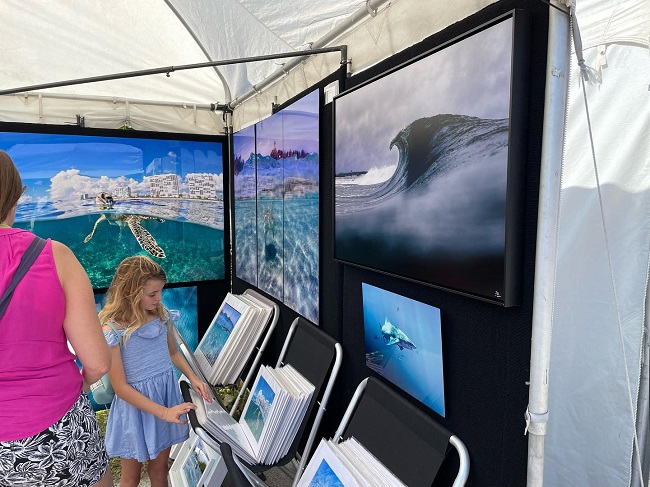 1 – Incredibly Easy to Customize
With metal photographic prints, no dream is unachievable. There's a metal print of any shape and size.
Whether you want a gigantic print to act as an accent piece for your favorite living room wall, or a tiny print to mount on your TV console, there's something for you.
Our prints also come in endless mounting options. As such, you won't be limited to a particular mounting style. You can choose whatever matches your taste, whether it's floating wall mounts, magnetic brackets, or cute acrylic display stands.
(Browse our wide range of mounts and backings all made from aluminum for longevity).
2 – Different Finish Options
The beauty of metal photo prints is that they come in different finishes, all of which maintain the images' aesthetics.
You may opt for a high-gloss that lets your artwork shine or a soft matte finish that keeps it on the low.
Regardless of your personal style, Shiny Prints has a finish for you:
White gloss: Smooth, glossy finish with a white background that gives prints a luxurious feel. It's an excellent finish option if you're a first-time metal print buyer or if you want shiny, vivid images.

White matte: Features a soft, satin-life surface that minimizes glare. It's ideal for prints displayed near a window or an entry point where glare may be a concern.

However, matte finishes are known to dull some vibrant colors in a print, so they're more suitable for less colorful images.

Silver gloss:Gives your images a metallic feel. The high-gloss finish will shine through your aluminum prints, giving images shimmery metal highlights.

However, the silver color on aluminum will make images appear darker. Slightly enhance your images' saturation and brightness to make up for this.

Silver matte: Similar to silver gloss finish, but without the shine. It gives prints a very industrial look that complements vintage commercial prints.

White gloss EXT: Similar to white gloss finish but specially designed for outdoor use. It's resistant to graffiti and chemicals and ideal for outdoor signage and art displays.

(Note: Keep an eye out for our outdoor metal prints, which we'll be releasing soon. The prints will come with a 10-year rating for outdoor use, and 300 years for indoors. They'll be one of the only three labs that have a 10-year rating. The rest of the prints will have five).
How Much Do the Best Metal Photo Prints Cost?
There isn't an exact price for quality metal prints. What you'll spend will vary depending on factors such as the size of your prints, the type of mount, and the printing method used.
Generally, you'll end up sending less compared to other prints, like canvas and acrylic, while still getting high-definition art pieces.
This is because the dye sublimation process allows the prints to be produced digitally and in a shorter period, tremendously reducing time and labor costs.
A print you purchase today is guaranteed to last you for decades on end, with some going as far as 300 years. You'll end up saving money in the long run, since there'll be no need for repurchases or repairs.
The table below gives you an idea of the different price ranges for our metal photo prints in terms of size and mounting type.
| | | | | |
| --- | --- | --- | --- | --- |
| Metal Print Size (Inches) | Cost Of Printing Only | Cost Of Box Mount | Cost Of Standoff Mount | Cost Of Frame Mount |
| 10 x 10 | $36.00 | +$8.00 | N/A | +$18.00 |
| 12 x 16 | $60.00 | +$8.00 | N/A | +$18.00 |
| 20 x 60 | $360.00 | N/A | +$5.00 | +$18.00 |
| 48 x 48 | $570.00 | N/A | +$5.00 | +$18.00 |
You can go through the entire price list in our sizing and pricing page.
For professional artists and photographers, you'll receive a permanent discount (Pro Pricing) with every order you make. Repeat buyers can also enjoy our contract rates, which are the most competitive rates in the industry.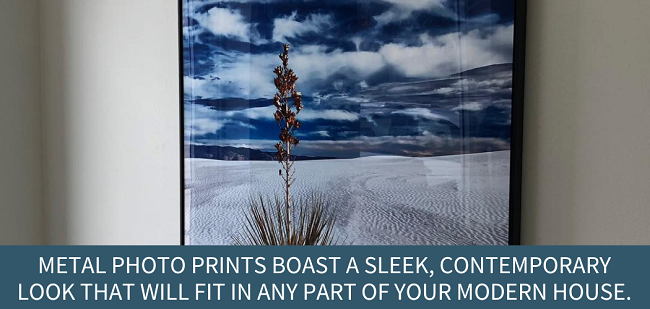 What Makes Shiny Prints' Metal Photo Prints Stand Out
Several qualities make our metal photo prints stand out.
While we'd like to discuss each and every one of them extensively, we'll let our esteemed customers provide a summary of what they love about these prints:
They're incredibly durable and long-lasting.
The metal used is of the highest quality.
They require minimal maintenance to retain their stunning appearance.
"… Their metal prints are of the highest quality and I've always had incredible results with them. Highly recommended!" Sam Farkas, Verified Buyer
"I found them randomly searching for metal products online… I was amazed by the quality but more importantly my clients are amazed which has helped my business to grow." Richard Hughes, Verified Buyer
"Beautiful prints! They know their stuff & I get TONS of compliments on the family prints they did for me." Julie Montgomery, Verified Buyer
"Ordered my first metal print ever, and Shiny Prints knocked it out of the park. I've never seen one of my photos look this brilliant. Thank you Shiny Prints!" Dan Conners, Verified Buyer
Where Should I Hang My Metal Photo Prints?
Metal photo prints boast a sleek, contemporary look that will fit in any part of your modern house.
Hang them anywhere on your walls, but remember that some metal picture prints have a luster that can be shiny and distracting when opposite a window or placed in a bright room.
Elevate Your Space With Top-Notch Metal Photo Prints
Metal photo prints are a cost-effective way of sprucing up your space. They're easy to maintain, come in different finishes, and are customizable.
Shiny Prints offer endless options of metal photographic prints for both personal and commercial purposes.
We use only the best equipment and material in the industry for your prints to ensure that you get the best quality.
Talk to us today for all your print needs. We're more than ready to help you to transform your treasured images into impressive displays.
"I've placed a few orders with Shiny Prints and the results have been astonishing and out of this world … They're the best option in the market to print on metal." Moisés A. Brador A, Verified Buyer
Share on Facebook: