Metal Photo Prints vs Traditional Prints: Which Is Right for You?
Photo prints are one of the easiest options for jazzing up the decor of any space.
They allow you to showcase cherished memories, beautiful landscapes, stunning portraits, and even abstract pieces. The endless options in size, style, and format make photo prints an attractive choice for styling both residential and commercial spaces.
Photos printed on paper, canvas, and acrylic have been the go-to option for ages. In recent years, however, metal prints have grown in popularity and have almost completely overtaken traditional prints due to their contemporary aesthetic, vibrant colors, and superior durability.
As you prepare to add stunning photos to your space, you probably have questions about:
The differences in the appearance of metal and traditional prints
How metal photo prints and traditional prints compare in terms of durability
The processes used to create metal and traditional prints
Cost versus value for money of the two kinds of photo prints
We've put together this comprehensive guide to help you decide which type of print is right for your needs.
Metal Photo Prints and Traditional Prints: A Quick Comparison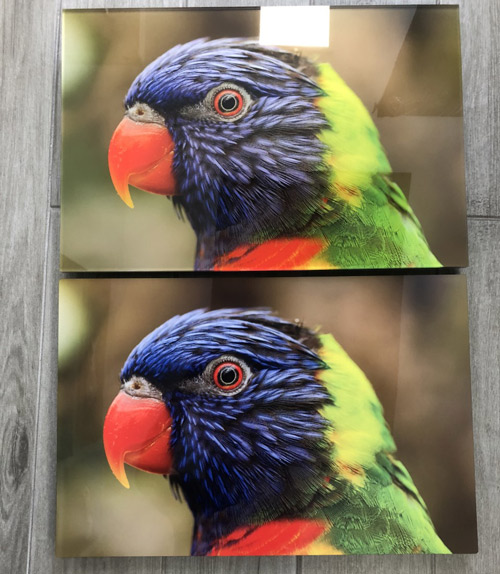 Materials
Metal prints are printed on aluminum with a white base coat that enhances the vibrancy of any color printed on the metal.
At Shiny Prints, we only work with ChromaLuxe specially-coated aluminum panels. The resulting prints are vibrant, high-resolution, durable, and long-lasting. You don't need glass to display these prints, since they go well with wall mounts or traditional frames.
ChromaLuxe prints transform your photos from art to fine art and ignite the imagination of all who look at them.
"The best business decision I ever made was to offer metal prints to my galleries and collectors … " – G. Brad Lewis, Photographer
Traditional prints, on the other hand, are printed on photographic paper, canvas, or acrylic. Photographic paper is coated with a light-sensitive chemical called silver halide which allows images to be printed on it with detail and color accuracy.
Photos printed on acrylic are sleek and modern in appearance, with a subtle 3D effect similar to metal prints but less vibrant. Acrylic is the cheaper option and also less durable since images are printed on its surface, not into the material.
Canvas prints make your images look like paintings due to the material's obviously textured look and lack of reflectivity. They're perfect for artwork meant to have a "homely" or "warm" vibe.
Printing Process
Metal photo printing involves a dye sublimation process that requires heat and pressure to transfer printed images onto the metal.
First, an inkjet printer prints the image onto transfer paper using special solid inks. Next, the image gets heat-transferred onto a prepared aluminum surface. The ink transforms into gas before bonding with the metal, creating a clear and durable image.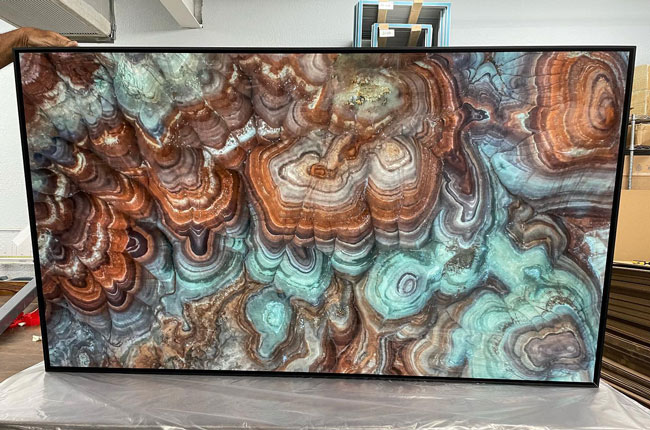 Traditional photo prints are created by either face mount or direct printing.
Face mounting involves applying a clear adhesive to the surface of the print, then adhering it to an acrylic base (plexiglass). A backing material, such as Dibond, is then attached to the back of the print to make it sturdy.
In direct printing, a photo is directly printed onto the surface of a material such as paper without using a transfer or other intermediate steps. The end result is an image with a superb matte finish and vibrant colors.
Since dye sublimation involves infusing ink into a material, it results in a hardy product that can't be superficially damaged. Other printing processes print images onto the surface of the material, making the artwork less durable.
Pros and Cons of Metal Photo Prints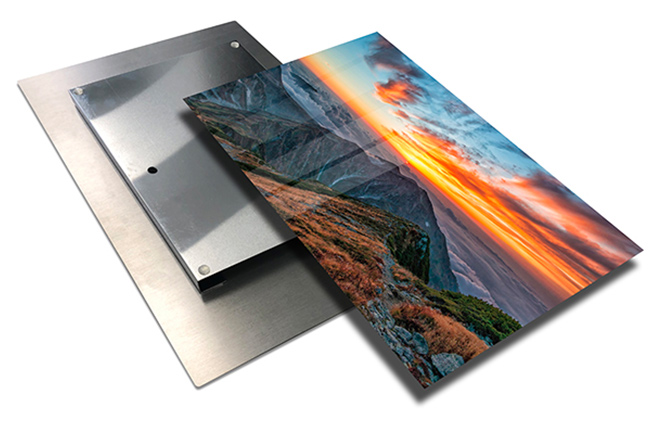 Pros
Thanks to the dye sublimation process, metal picture prints have exceptionally vibrant colors. The ink is infused into the metal, resulting in vivid, accurate colors. As well, aluminum creates a 3D effect on any kind of image. This makes each part of the photo stand out.
" … I'm always pleased. Their color profiling and customer service really just doesn't get any better … " – Jack Bates Photography
In addition, light reflected from the metal surface makes colors appear brighter and more vibrant. Prints made on ChromaLuxe metal panels are especially fantastic for magnifying the beauty of your images in a way that other mediums just can't match.
The more details there are in a photo, the more spectacular it looks.
Dye sublimation creates a crisp image with excellent contrast, making all the details pop. The high resolution and color accuracy of the printing process also brings out even the smallest of details.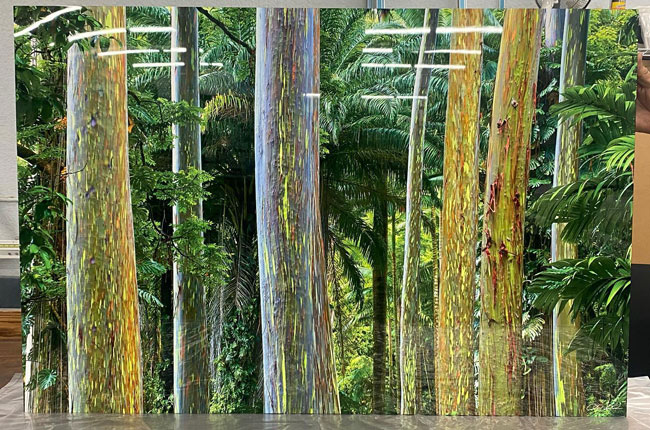 Metal photo prints are steadily gaining traction over other types of prints because of their impressive durability. It takes up to 60 years for the first noticeable fading and color changes in ChromaLuxe metal prints to occur.
The long life of metal prints comes from them being:
Rustproof: Aluminum prints have incredible corrosion resistance since they have no iron in them.
Heat resistant: Aluminum melts at 1221°F and remains stable at temperatures below this.
Scratch resistant: It's impossible to peel the ink off because the images are printed directly onto the aluminum base.
Moisture resistant: Metal prints stand up well to splashes and spills.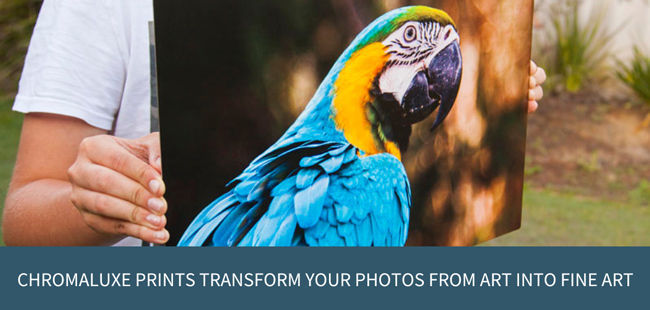 Cons
On the flipside, metal prints are much more costly than traditional printing. Aluminum is considerably more expensive than canvas or paper, and it takes more work to prepare an aluminum sheet for printing.
Printing on metal also requires special dye sublimation printers which are expensive. This further drives up the cost of metal photo prints.
Metal prints do best when kept indoors and in the shade. They tend to fade quicker with regular exposure to direct sunlight.
However, our lab at Shiny Prints will soon be releasing an outdoor metal print with a 10-year outdoor rating, and 300 years indoors. We'll be one of three labs with a 10-year rating, as opposed to the competition's typical five-year lifespan.
Metal photo prints result in extremely high-resolution photos with bright colors and clear contrast. It's important to note that if your image is of average or low quality, a metal print will highlight its imperfections.
Expert Tip: Converting a low-resolution image into grayscale (black-and-white) can get you some decent results for metal printing.
Pros and Cons of Traditional Prints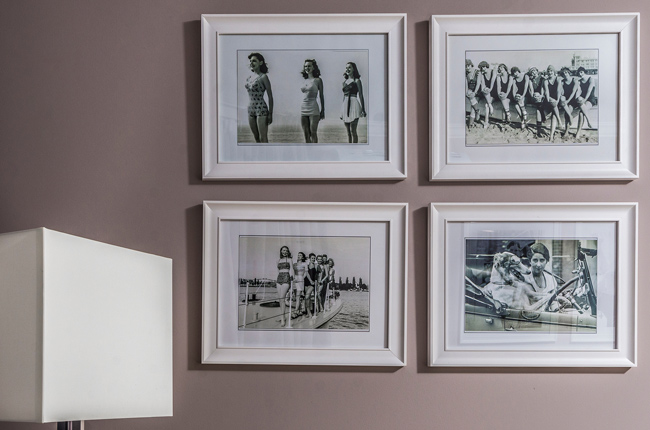 Pros
The charm of paper and canvas photo prints comes from their traditional appearance, which works well with less contemporary decor. It also evokes a sense of nostalgia, pointing back to the days when printed photographs were the way to preserve memories.
What's more, regular photo prints come at a lower cost than metal prints. They're cheaper to produce and are more widely available, making them excellent for people on a budget.
Canvas and paper prints work well with soft and bold prints due to the non-reflectiveness of the material. Even if your photo isn't extremely high-resolution, it will still look great printed on these mediums.
Cons
Unlike metal prints, traditional photo prints have lower color saturation meaning that they don't allow you to achieve vibrant colors and intricate details in your images. As such, they give you less visually striking results compared to metal photo art.
As far as durability goes, traditional prints get a lower score.
They're highly prone to yellowing and fading over time since their surface materials are less hardy. Canvas and paper prints require intense maintenance to protect them from deterioration from the elements such as rain and direct sun.
Acrylic prints last a bit longer but they still trail far behind metal photo prints.
Let's look at some of the differences between metal prints and two other popular printing mediums in the table below:
| | | | |
| --- | --- | --- | --- |
| Feature | Metal | Canvas | Acrylic |
| Appearance | Metallic coating appearance | Matte surface appearance | High-gloss appearance |
| Durability | Up to 60 years | Fairly durable but needs great care | Up to 15 years |
| Print process | Dye sublimation | Face mount | Direct printing/face mount |
How to Choose Between Metal Photo Prints and Traditional Prints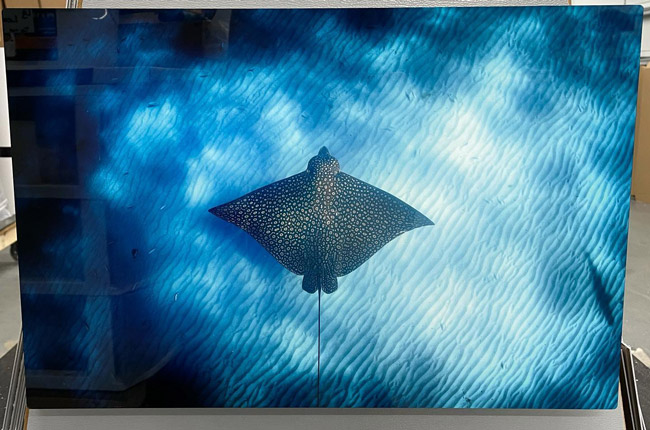 When choosing the type of print for your space, consider an option that's within your budget. Metal prints cost more but make up for it with their impressive durability. They'll last you a lifetime and beyond if well maintained.
Traditional prints, although cheaper, have a shorter lifespan.You might end up spending more on frequent replacement and maintenance.
If your budget allows it, consider splurging a bit on metal prints and enjoy their benefits for years to come.
" … If you haven't ordered a metal from them yet, I would highly suggest you get right on it …. " – Richard Hughes
Keep in mind where you intend to display the photo prints. If the space has a more contemporary style, metal photo prints will give you a better outcome thanks to their sleek, modern aesthetic.
Regular prints, on the other hand, will complement traditional interiors nicely.
The subject in your photos is also an important point to consider.
Generally, the best images for metal prints are high-resolution nature photos of oceans, forests, and waterfalls. Living creatures, such as humans and animals, can look subtly "wrong" due to the shine and 3D effects of metal prints.
Let Your Style Guide You
Both metal and traditional photo prints offer an easy way to instantly jazz up any space. While traditional prints go well with most settings, metal prints are better suited for sleek, modern decor.
In terms of durability, metal picture prints perform better than other mediums, with superior fade-resistance, water-resistance, and general sturdiness. These properties make metal photo prints more expensive than canvas and paper prints, however.
Considering your budget, the intended use, and the characteristics of the prints will help you decide on the option that you'll be happy with for years to come.
If you're still unsure about which type of photo prints to go for, please reach out to us. Our team of experts will be delighted to guide you in making a decision that best suits your needs.
Share on Facebook: