Metal Photo Prints: 6 Questions Answered
Your photos are art. Your photos on metal are fine art.
What a paper photo print shows you, a metal photo print tells you. This is not an exaggeration. Metal print photos have a way of talking to your soul by stirring deep feelings thanks to their 3D-like vision.
Maybe this is your first encounter with the fascinating technology of metal printing. Or perhaps you've had the pleasure of interacting with the uniqueness and beauty of metal pictures already.
Whatever the case may be, we've answered six questions you might have about metal printing. These answers will provide you with a better understanding of:
Why metal photo prints are superior in terms of quality
Who can use metal photo prints
The difference between metal and other printing mediums
"A photograph is a pause button on life." – Ty Holland
1 – What Is the Process for Metal Photo Printing?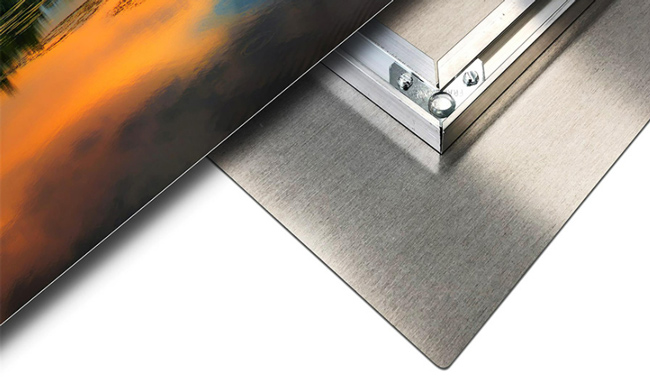 A metal photo print refers to a photo that has been printed on a metal sheet using special techniques. Let's look into three of these techniques while paying close attention to dye-sublimation.
Direct Print
With direct printing, a photo is printed directly on a metal sheet without being absorbed into the substrate. In printing, the substrate refers to the surface that's being printed on, which in this case is the metal.
Face Mount
In this printing process, a print is mounted onto the metal substrate using clear glue. This process can be used for producing traditional photos as well as digital prints. However, face mount pictures fade fast and therefore does not compare to dye-sublimation.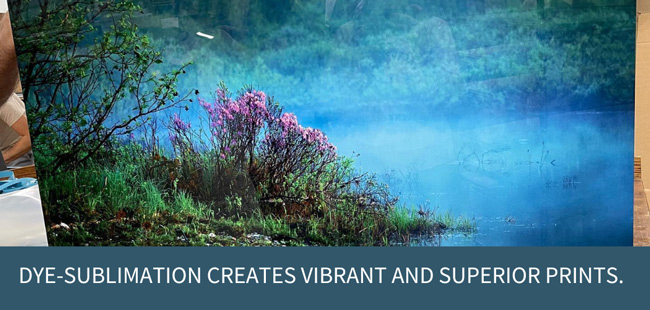 Dye-Sublimation
We saved the best for last!
Let's talk about the superiority of dye-sublimation. Dye-sublimation is a technology in which heat transfer is used to apply an image onto a metal sheet. This is done in a two-step process.
Step 1: The image is first printed onto transfer photo paper using dye-based inks and a sublimation printer.
Step 2: The image is then transferred onto a ChromaLuxe aluminum panel that's been coated with heat and pressure. After the transfer, the aluminum prints are coated in a UV- resistant layer which protects them from scratches and sun damage.
As a photographer or artist, it's very important to find out which process a company uses to produce metal prints before your photographs are printed.
Always insist on ChromaLuxe panels. Some labs use other coated aluminum sheets because the alternatives are cheaper. They, however, fade in comparison to the tenacity of ChromaLuxe.
At Shiny Prints, we only use dye-sublimation. It not only allows us to create vibrant and superior prints, it also gives us the freedom to customize metal photographs in whatever size you prefer.
This produces fantastic results—prints that have a 3D feel to them.
This way, no matter the size, quality is guaranteed.
Expert Tip: Not all metal prints are created equally. Always opt for ChromaLuxe panels as they are the industry standard for photographers and artists.
2 – How Durable Are Metal Photo Prints?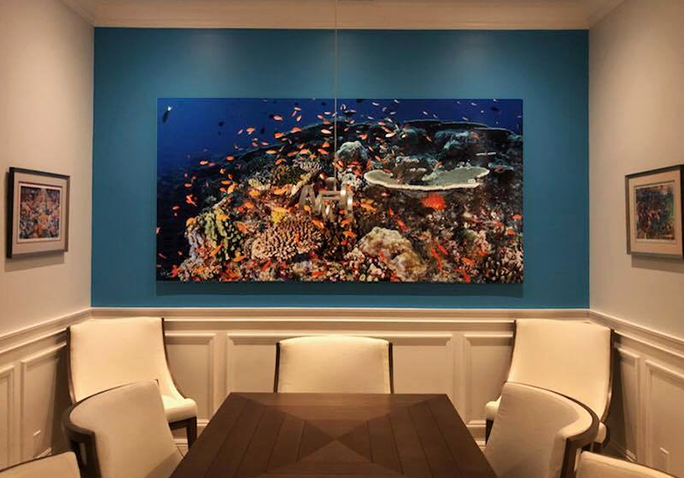 If you're going to get metal photo prints for any reason, then do it for their durability. By using ChromaLuxe, your metal photo prints will last more than 65 years.
You'll have photo prints that can be passed down from generation to generation because:
They Are Heat-Resistant
In the event of a fire, metal photo prints can be saved—that's how durable they are. They can withstand extreme temperatures which also makes them great for the outdoors.
HD Metal Prints Are Fade-Resistant
Metal photo prints can fade eventually. However, this would still take years and years of exposure to extreme weather elements, especially if that exposure is just direct sunlight.
When you choose a Shiny Prints mount, you'll be assured that they'll still be exuding the same vibrance and exceptional detail as the day you got them.
3 – Are Metal Photo Prints Customizable and Personalizable?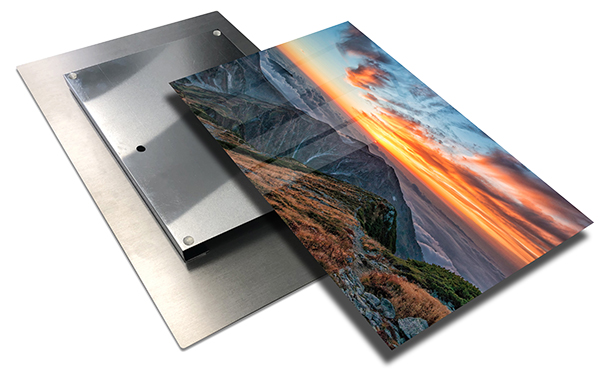 The beauty of metal prints is that you can customize them to your heart's content. Whatever image you have in mind, you can make it come to life with a metal photograph.
There's no better way to preserve your special memories than on a metal print. This is because ChromaLuxe prints give you the most life-like photographs.
If you want to preserve that photo from a family vacation, metal printing will do that for you while with a crisp and eye-catching image.
You can personalize anything and everything from:
A personal photograph
Metal wall art prints for your interior decor
Adding text, such as names and dates, on a special gift
Reach out to us by phone at 866-236-7035, and tell us what you have in mind. We'll then execute it for you and you'll be well on your way to impressing your family and friends, just like Sam here;
"… Shiny Prints are extremely knowledgeable, and their customer service is top-notch. Their metal prints are of the highest quality …" – Sam Farkas
4 – Can Metal Photo Prints Be Hung Outside?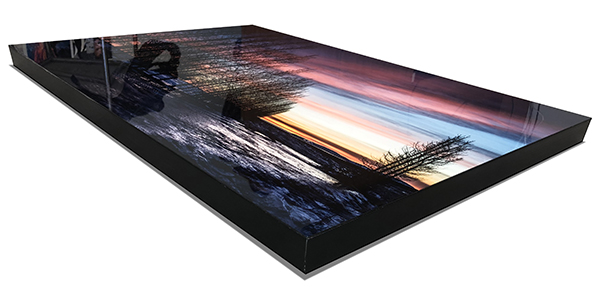 The short answer is yes!
You can hang your metal pictures anywhere you want. Whether it's in the kitchen, the bathroom, or outdoors. This is mainly because metal pictures are resistant to elements like water and UV rays.
This makes them great for business areas as well. You can hang them outdoors in a restaurant, and they'll remain pristine while elevating your establishment's aesthetic.
However, if you'd like them to outlive you, place them away from direct sunlight. Prolonged exposure to elements can cause them to fade over time.
5 – Can Metal Photo Prints Be Used for Commercial or Business Purposes?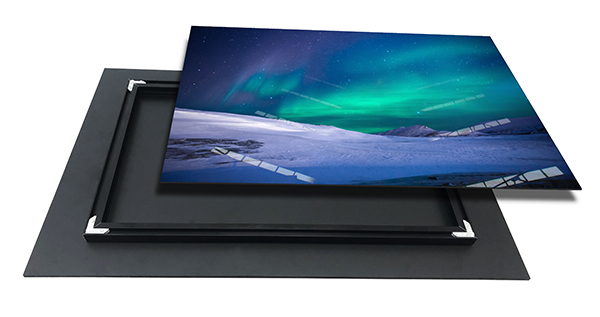 Every space needs the visual appeal that only metal photo prints can provide.
Be it a restaurant, an office, or a school, aluminum prints are the perfect addition, not just for their durability but for the wide array of options they offer. These prints allow you to customize everything to your liking, from mount style to size.
The versatility of metal prints makes them great for:
Decor: Metal photo prints can elevate your decor game in ways you can't imagine. The metallic finish results in a sleek and modern aesthetic. So next time you're in the market for wall art for your office or boutique, remember that our ChromaLuxe metal prints are not only set apart by their unique texture, but also their durability.
Advertising and branding: Due to their ability to be produced in custom sizes, companies and marketing agencies can use large-scale metal displays to grab the attention of all.
Photography and art galleries: The perfect medium to showcase your artwork and photographs, whether they're nature shots or portraits. Due to their excellent color reproduction, metal photos and artwork have the most professional and elegant touch.
6 – What's the Difference Between Metal Photo Prints and Other Prints?
By now you know that aluminum metal is our absolute favorite medium to print on.
Still, you might be wondering how it compares to other printing materials. The most common medium to print on is paper—you know, the magazine you browse through at your local salon. However, other printing mediums, like acrylic, canvas, and glass, do exist as well.
In the table below, we compare metal prints to two other popular mediums: canvas and paper.
| | | | |
| --- | --- | --- | --- |
| Feature | Metal | Canvas | Paper |
| Fade-resistance | Does not fade | Fades | Easily fades |
| Durability | Long lasting (65+ years) | Relatively durable | Least durable |
| Suitable | Can be hung indoors and outdoors | Best hung indoors | Only hung indoors |
| Water-resistance | Resistant to water damage | Easily damaged by water if untreated | Damaged when in contact with water |
As you can see from the table above, paper and canvas just can't compete. Metal wins the race by a long shot.
ChromaLuxe Metal Photos Is the Way to Go
You now know what metal photos are, how they're made, and why we consider them superior to other mediums. As you've discovered, metal prints can be customized to suit your needs. Whether for an office or your home entryway, there are endless possibilities to what you can achieve with metal prints.
It's time for you to hop on this life-changing technology. Get it right the first time by choosing Shiny Prints—you'll be blown away by the beauty and vibrance of metal prints, just like our friend Jack who had this to say about us:
"… Their soul is in printing. You know how some businesses are just epic and some trash? That's because some love what they do and some hate it …" – Jack Bates Photography
Contact us today; it would be our honor to walk this epic journey with you.
Share on Facebook: