Metal Photo Prints as a Unique Gift: Personalizing and Customizing Your Prints
Although we all say it's the thought that counts, it's far better to give a gift that your loved one will enjoy. Metal photo prints are an excellent option to consider if you want to surprise someone with a unique present.
Metal photo art is durable, keeping memories alive for years. The customization possibilities of metal printing also allow you to create a piece of art that's one-of-a-kind and that perfectly matches the giftee's tastes.
As you think about gifting your loved one a metal photo print, you may have questions about:
Different kinds of finishes available
Where to get high quality metal photo prints
The framing options available for metal prints
Let's look at why metal photo prints make for fantastic gifts that will light up your friends' homes and hearts.
Personalization Options of Metal Photo Prints
Metal photo prints provide an opportunity for you to give to your loved one a bespoke gift that speaks volumes. There are several options for personalizing these prints as we'll look at below.
Using a backstamp to brand metal photo art adds an additional layer of value to the gift and shows that you put a lot of thought into preparing it. You can either write the giftee's name or a special message on the back of the print.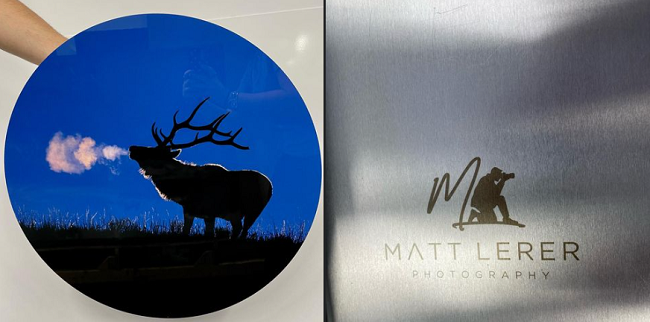 Our backstamp maker accepts both text and graphics, giving you a wide range of design options to choose from. The simple drag-and-drop process allows you to create and adjust your backstamp within minutes.
Here's a short demo on how to create beautiful backstamps.
Expert Tip: To add a backstamp to your metal print, ensure that you select the correct frame option. All our mounting options, apart from the box mount, allow you to add a backstamp to your art.
Another way to personalize metal photo art is by adding text to the front of the image. Think of a quote that your friend lives by, or a phrase they love to repeat. Such messages convey a special sentiment associated with the image, making it more meaningful.
Another great idea is to print the name and date of an important event, such as a wedding or anniversary. This can create a lasting reminder of the occasion and add a personal touch to the gift.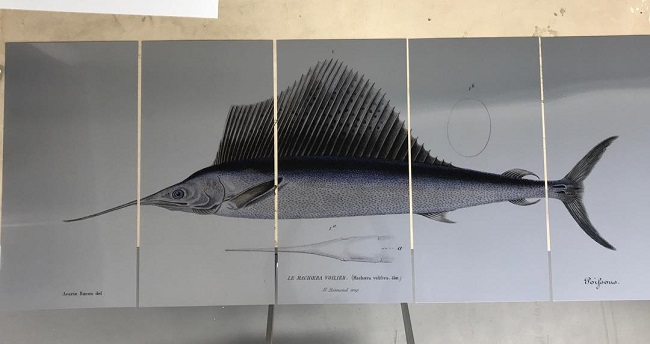 Adding special effects to metal photo prints lends a unique and artistic flair to the image. You can use effects to tailor the photo to your loved one's tastes or interests, making the gift even more personal.
Several special effects are available for you to use on metal photo art, including:
Vignette: Edges of the image are darkened, creating a moody effect and drawing the viewer's eye towards the center
Watercolor: Mimics the soft and dreamy look of a watercolor painting
Sketch: Gives the image a hand-drawn look like that of a pencil or charcoal sketch
Black-and-white: Also known as grayscale, this classic effect creates a timeless and artistic look by removing all color from the image
Sepia: Perfect for creating a vintage or antique look, thanks to the warm, brown tint
A well-chosen special effect can transform a simple photo into a work of art, creating a personalized and unique gift that your family and friends will treasure for years on end.
"We absolutely love how our … captured memories were transformed into beautiful works of art for our home to cherish forever! …. " Jaime Langan
At Shiny Prints, we only work with ChromaLuxe specially-coated aluminum panels to create vibrant, high-resolution, and durable prints. The extraordinary clarity and archival quality of these panels is perfect for elevating the decor of any space.
Our dye-sublimation printing process uses heat and pressure to transfer printed images onto a metal surface. This not only produces artwork with rich colors and significant details, but also gives them a robust surface finish.
Customization Options of Metal Photo Prints
Metal photo prints also make a great gift because they allow you to choose the type of surface finish that you would like. At Shiny Prints, we offer different surface options, including:
White gloss: A smooth finish that makes the print appear glassy
White matte: An option that gives you quality and luxury without the shine
White gloss EXT: A white gloss option specially formulated for outdoor use
Silver gloss: A clear gloss finish that gives your prints a real metallic feel
Silver matte: A finish that gives your artwork an industrial look and feel
If you're looking for hardy metal photo wall art to display outside, we'll soon be releasing an outdoor metal print with a 10-year outdoor rating.
The indoor rating for this product is 300 years, preserving your loved ones' memories for more than a lifetime.
Choosing a finish that suits your loved one's needs and the environment where the art will be displayed results in a print that will stand out in ways that other photo prints just can't.
"I am absolutely blown away by the quality and customer service of Shiny Prints …. " Gabriel Schiff-Verre
But that's not all. Metal picture prints afford you the freedom to choose the best mounting option for the giftee's tastes and needs.

The table below compares and contrasts the different mounting options we offer at Shiny Prints:
| | | | |
| --- | --- | --- | --- |
| Mount Type | Best For | Mounting Method | Appearance |
| Box mount | Prints smaller than 20″ x 30″ | Floats 3/4″ off the wall | Simple, neat look |
| Premium frame mount | Medium to large prints | Floats 3/4″ off the wall | Slightly better appearance on the back of the print |
| Edge mount | Medium to large prints | Sits on the wall | Luxurious |
| Tuxedo mount | Medium to large prints | Sits on the wall | Improved side appearance of metal prints |
Another quality that makes metal photo art unique is the option to choose custom print sizes. Whether you'd like a small 20″ by 40″ print or a 48″ by 96″ statement piece, your creative ability won't be limited to standard sizes.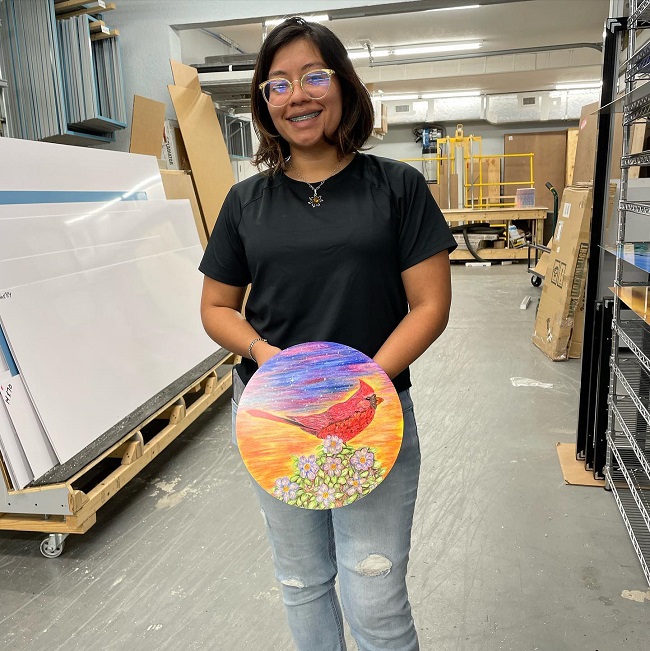 These customization possibilities give you the freedom to create a print that perfectly fits your loved one's space and stylistic vision.
And it gets even better. Using our special machines, we can cut prints on metal into any shape you desire. If an interesting element trumps the rest of the image, we'll cut it out and turn it into a separate head-turning piece of art.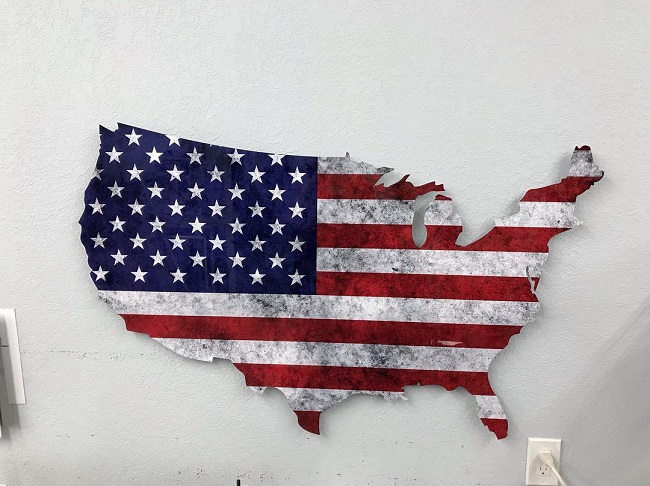 Ideas for Gifting Metal Photo Prints
Metal photographic prints are ideal gifts for various occasions. Their vibrant colors, high definition aesthetic, and durability make them versatile enough to be thoughtful presents that offer great value.
" … I have placed a few orders with Shiny Prints and the results have been astonishing …. " Moisés A.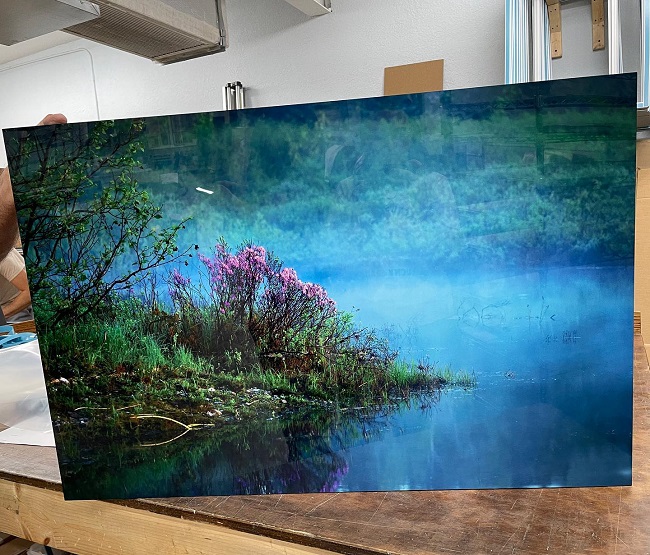 Thinking of something unique for your brother's wedding anniversary gift? A vibrant metal photo print of him and his significant other on their wedding day is an excellent choice. Personalizing the print with a line from their vows will knock this gift out of the park.
For your best buddy who's just opened their new business, a metal photo print would be great for enhancing their store. Customize the print with an image that represents their business, such as a logo or product, and personalize it with a congratulatory message.
Such a gift serves as a reminder of your friend's achievements and the hard work they put into starting the business.
Metal photo prints make cliche Mother's and Father's Day gifts, such as gift cards and flowers, a thing of the past. A portrait of your parents with a thoughtful message printed on it will be a delightful addition to their living space.
Whatever the occasion, metal photo art makes for a thoughtful and unique gift to help you express appreciation for your loved ones.
Frequently Asked Questions
What do I require to create a custom shaped metal photo print?
At Shiny Prints, we ask that the image is in a vector format that can be read by our software. If you're not sure how to do this, our in-house vector design team can do so for a reasonable rate of $30 for simple shapes and $80 for complex shapes.
" … Great service and product!! Actually helped me step by step in getting my prints looking the best they can …. " Daniel Prairie
What mounting and hanging options are available for custom metal print shapes?
Custom shaped prints can be mounted like regular prints using one of our standard mounting and framing options. Alternatively, they can be backed with a thicker material, such as a foam core sheet for indoors or PVC for prints to be displayed outdoors.
What is the turnaround time for custom metal prints?
Since custom die cut projects are unique, the printing process will take longer than those of standard size prints. Depending on communication, available materials, and complexity, these prints take one to two weeks on average to produce and ship.
Treat Your Loved Ones to Exceptional Gifts With Metal Photo Prints
Metal photo prints are fantastic gift items since they offer a modern take on displaying treasured memories in a durable format.
These prints can also be customized with special effects, personalized messages, and can be cut to custom shapes and sizes. This allows you to create special works of art that perfectly match your loved one's interests, decor style, and personality.
If you'd like to treat your friends and family to unique gifts that'll bring them joy for years, reach out to us today. Our team will be honored to help you create stunning metal photo prints to keep those cherished memories alive.
Share on Facebook: