The Benefits of a Metal Print Family Portrait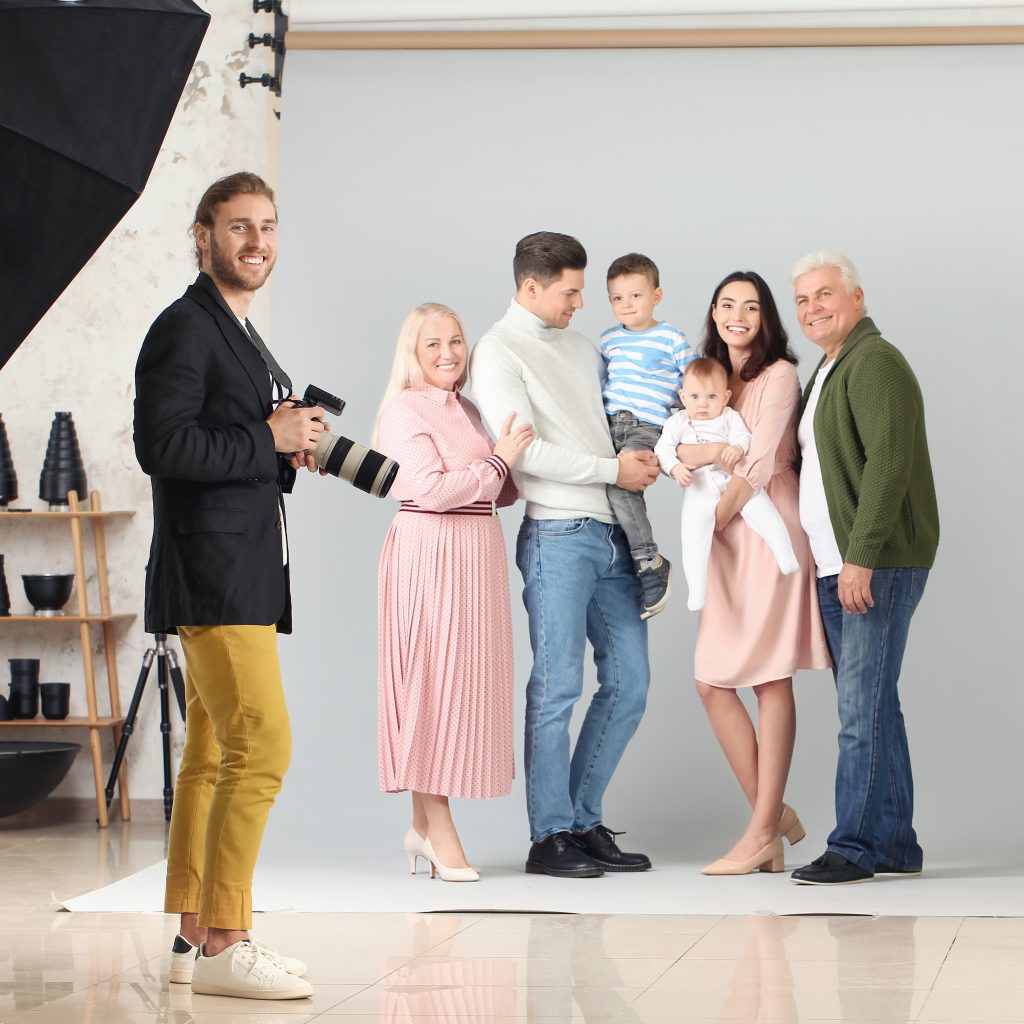 If you are looking for a new way to print your family portrait, look no further. Metal print family portraits are available, and it is the medium you need. Elevating your home with this modern touch is easy, and your portraits are going to last you a lifetime (if not more).
Metal print family portraits photo are an investment, but they are worth it.
In this article, you will learn about:
---
You did it.
You finally went through with that long-awaited appointment to have your family portrait taken, you have a memory preserved of you and your family. This is the showstopper and will be showcased for all to see. After spending hours planning, pairing the perfect outfits, finding the perfect location, and finally having your photos taken, you now face a crucial decision: you must decide how you want your photos printed.
Paper? Canvas? Acrylic?
What About Metal?
Metal prints are not something new, but they have certainly grown in popularity. They are more vibrant, sleek in design, and they offer more durability. Metal photo prints are moisture-resistant, heat-resistant, scratch-resistant, and flame resistant. You do not have to worry about your photo fading or taking on a yellow tinge from elements such as sunlight or photoaging. You also need to worry about rot damage from a humid environment. Also, your metal print family portrait will not be damaged by any water spills or splashes.
So, if you want to showcase your metal print family portrait(s) outside, you can do it without fear. A metal print family portrait can handle the outdoors for a bit. Also, due to its superior quality and high durability, there is no need to have your metal print encased in glass for protection.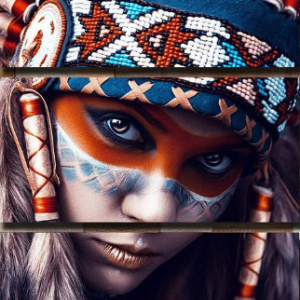 I Chose Metal Prints—What Surface Should I Pick?
Where do you want to display your portrait? Before you decide on your surface, ask yourself this: is your family portrait more modern compared to the old-fashioned family lineup? Do you have deep colors that you want to pop? Is this going to be the only color in the room? If you answered yes, then you should go with the white gloss surface. The white gloss has a white background, and it not only offers a smooth and shiny surface, but it also has the effect of appearing like a portrait behind a glass frame (without the glass).
I Want to Hang My Metal Print Family Portrait in a Sunny Room—Should I Still Go With White Gloss?
If you want to place your portrait in the room that receives the most amount of sunlight, you should not go with the gloss. Although it does not glare as much as an acrylic print, a gloss finish will not be ideal. A white matte surface will extend the same luxury as a white gloss but without the light shining back at you. The white matte will also give your family portrait that vintage look you can find with a canvas print. There's no need to about extra materials needed to hang or care.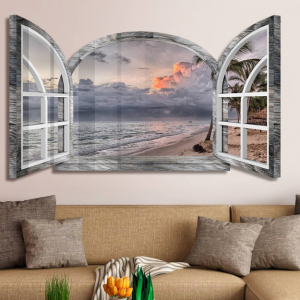 Do I have to Stick With a Standard Rectangle for My Metal Print Family Portrait?
Absolutely not. Choosing metal prints also means you can choose your shape. You are not limited to a traditional rectangle, and you are not limited to one size. This does not lower the quality of the print. Not only can you enhance your family portrait by choosing a different shape, but you also add an aesthetic that is unique to you and the room you display your portrait. After all, a portrait is an art. At Shiny Prints, you can choose a custom cut for your metal print. The metal print to the left was cut to give the illusion of an open window. The sky is the limit, and the choice is yours. Your metal print family portraits can be the custom cut that matches your home and personality. You can even have your photo split into panels to make a statement.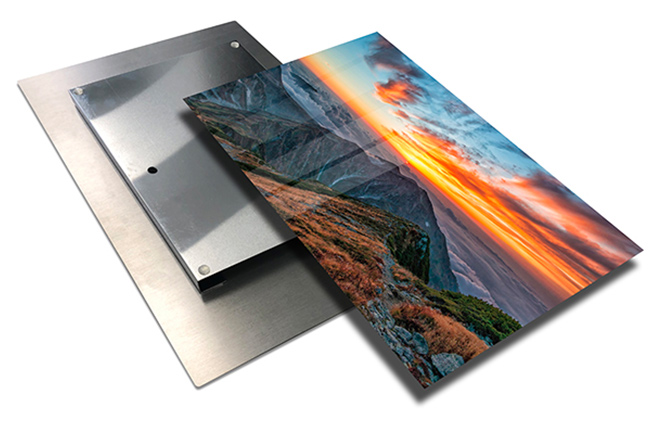 A Modern Approach
With a metal family portrait, you don't need to take an extra step in picking out that perfect frame (or hiring a framing company, which can be very expensive). Most metal prints are frameless, although a modern floater frame is available. Hanging your metal family portrait is simple, and it adds just the right touch to a modern-style home. Shiny Prints offers four different mounts: box mount, premium frame mount, edge mount, and a tuxedo mount The box mount will float your prints ¾" off the wall. Intended for smaller prints (smaller than 20″ x 30″), this mount is by far the easiest mount, and it only requires one nail to mount it.
For larger prints, we recommend the premium mount. This mount includes all the hanging hardware: screws, a cleat, and a level to help you hang your portrait properly. The elegant design of the edge mount will give your portrait a canvas print feel. The print adheres to the edge backing, which allows for easy hanging. The tuxedo mount will give your portrait added weight. This is a great option if you like to rearrange your home and also move whatever is sitting on your walls.
Will My Metal Print Family Portrait Peel off the Metal?
Fear not. Your family portrait is not a paper-based photo that is glued onto a metal sheet. In fact, there is a two-step process that takes place to infuse the image on the metal.
This method is called Dye Sublimation.
Dye Sublimation is a technology that uses a heat-transfer process. First, we print your image onto sublimation paper. Next, we place the sublimation paper into a dye sublimation printer (with a heat press). After we press it, it converts the solid ink into a gas, and then it fuses with the metal sheet permanently. Finally, we bestow you with a family portrait that will last throughout the ages.
Is This Too Good to Be True?
Not at all.
At Shiny Prints, we focus on quality craftsmanship and materials. This is why we choose ChromaLuxe for our HD metal to ensure that each print is vivid and clear-cut. This ideal material used is not only highly durable, but it is also chemical and flame resistant (the metal meets Class B flame spread index 75 or less and smoke developed index 450 or less). Shiny Prints will provide you with the utmost quality for your family portrait. This means sublimating the print with high-quality sublimation inks at a lower temperature for a longer time (ten minutes). The procedure is slow in the printing world, but as the old saying goes: slow and steady wins the race.
---
A family portrait is more than having a picture taken of your family; it is immortalizing a moment in your family's life. The material you choose to preserve that moment is important. Your metal print family portrait is going to last a lifetime. Metal photo prints are moisture-resistant, heat-resistant, scratch-resistant, and flame resistant. If you are ready to showcase your family portrait, look no further than Shiny Prints.