Boosting Your Business Visibility With Metal Print Signs
Taking Your Business to a New Level
Metal prints boost your business visibility. It's no secret that your business's sign can impact your sales, especially because it showcases your brand 24/7. It is your business's first impression, and advertising your business outdoors is a form of communicating your business message to a live audience.
Metal prints are not new, but they are certainly gaining popularity. Not only do they elevate a business's elegance indoors, but they boost a business's visibility outdoors with their dynamic colors and extreme durability.
At Shiny Prints, we take your business signage to another level. In this article, we will discuss how a metal sign will boost your business visibility and the benefits that come with it.
Fun Fact: 76% of American consumers enter stores they have never visited before just because of the signage and 68% of Americans have paid for a service or product because of that sign.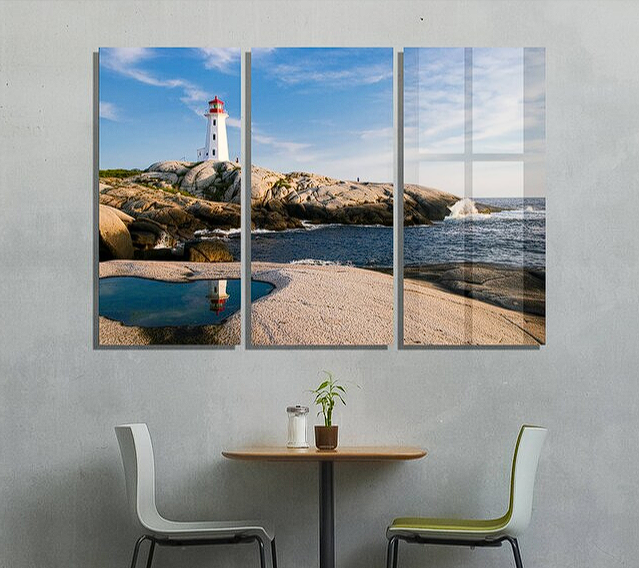 Dynamic Branding
Brand awareness is critical to a business for lead generation, growth, and sales. Matching your brand's colors to your signage is important, and a lack of consistency can lead to confusion for your customers. Boosting your business visibility with a Shiny Print metal print is ideal because we only use ChromaLuxe HD metal prints. Your metal print sign will have exceptional color resolution and detail with a 3D-like depth.
Permanent Process
Because we use a dye sublimation process, your business sign will bond to the metal permanently. We infuse the print into the metal, making them unrivaled to a direct print or vinyl sign. The vibrancy of your metal print will speak volumes about your business because of its visual appeal.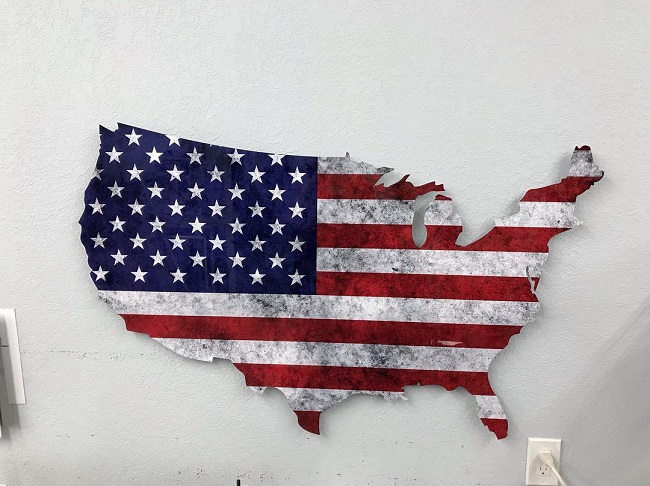 Customizable
Metal prints are highly customizable. They can be tailored to fit your needs and cut to any specific shape that you can think of. Your business will make an impression and give you an edge over your competition. Rather than printing a basic business sign with your logo on it, our CNC expertise can custom-cut your logo and impact your market.
Our metal prints are not set to a standard size, either. Our largest size is 48 x 96, but we can also customize your print size. Rather than eliminating elements meant to make your business sign stand out, our custom-size option can help ensure your metal print sign will include everything you want.
Standing The Test of Time
Metal prints boost your business visibility as well as offer a sleek, elegant debonair compared to other materials. They also offer extreme durability. While vinyl or plastic signs will fade or deteriorate over time, metal prints are resistant to the elements. They will not yellow with age or diminish in color, and they are moisture and flame resistant. Metal prints are also resistant to chemicals and graffiti. If you are placing your metal business sign outside, our ChromaLuxe EXT is ideal.
Our outdoor metal prints last 10 years opposed to three or five.
Cost Effective
When it comes to quality, you pay for what you get. While plastic or wood signs may seem reasonably priced, they don't last as long as metal prints. You will have to replace them more times than you will want to. The upfront cost for a metal print may be higher, but you are going to have a metal print business sign that will last. You will not have to worry about heat or moisture destroying your metal print sign, nor will you have to worry about replacing your metal every 3-5 years as you would with a sign made from a different material.
Branding Solutions
You can boost your brand even more when you place your metal print business indoors. If your business is in a large building, you may share space with other companies. Although your business name may be in a directory, it is important to showcase your signage inside the building. Directly outside your office space or storefront, along the halls to steer customers in your direction, and inside your business are all places your signs should be placed. We live in a fast-paced world, but when your brand is consistent with its signage, you will attract customers and grow your brand.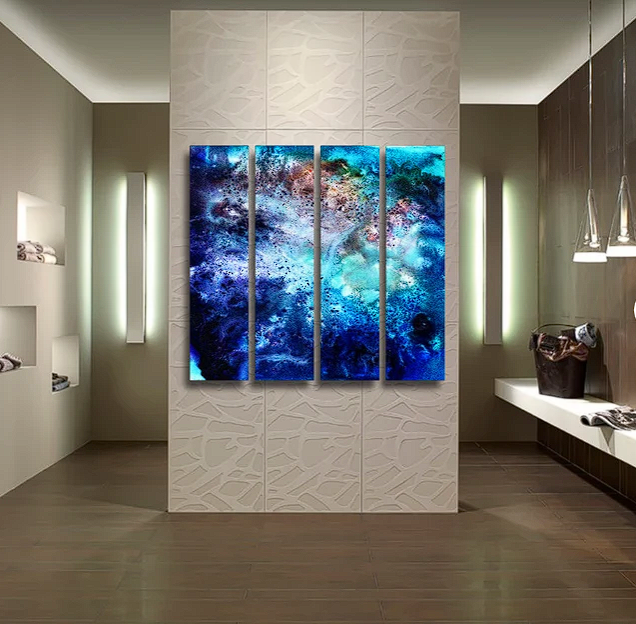 Making a Statement
Showcasing your brand in a vibrant quality that will withstand the outdoors is another way that metal prints boost your business's visibility. Your metal print will have the same quality as an interior metal print. You can customize your metal print size and shape, and you save money since you don't have to replace them as often.
When you hang a metal print business sign, you are making a bold statement with a vibrant sign that will get you noticed. The combination of HD aluminum with dye sublimation makes this the most resilient business sign.
How To Buy Metal Print Sign
Buying your metal print sign is as easy, and it can be done simply by using the create wizard on the Shiny Prints website. The create wizard will walk you through the steps to submit your file. There you will be able to drag and drop your image file, crop you photo and choose its size, and then you can pick your surface and mount.
Buying a Custom Cut
Buying a custom cut will involve submitting an image file. First, you're going to need to have your business sign or logo in a vector format so our CNC CAD software can read it. You will also need to ensure that your image is traced with a vector drawing path that is compatible with our software.
EXT Pricing
| | |
| --- | --- |
| 8 x 8 | $21.60 |
| 8 x 10 | $24.00 |
| 8 x 12 | $28.80 |
| 10 x 10 | $31.20 |
| 10 x 20 | $50.40 |
| 11 x 14 | $33.00 |
| 12 x 12 | $38.40 |
| 12 x 16 | $60.00 |
| 12 x 18 | $62.40 |
| 12 x 24 | $78.00 |
| 12 x 36 | $118.80 |
| 16 x 16 | $64.80 |
| 16 x 20 | $78.00 |
| 16 x 24 | $94.80 |
| 16 x 48 | $237.60 |
| 18 x 18 | $100.80 |
| 18 x 24 | $124.80 |
| 20 x 20 | $122.40 |
| 20 x 24 | $139.20 |
| 20 x 30 | $154.80 |
| 20 x 40 | $237.60 |
| 20 x 60 | $360.00 |
| 24 x 24 | $178.80 |
| 24 x 30 | $238.80 |
| 24 x 36 | $246.00 |
| 24 x 48 | $321.60 |
| 30 x 30 | $297.60 |
| 30 x 40 | $312.00 |
| 30 x 45 | $324.00 |
| 30 x 60 | $480.00 |
| 32 x 48 | $357.60 |
| 40 x 60 | $598.80 |
| 48 x 48 | $588.00 |
| 48 x 72 | $816.00 |
| 48 x 96 | $1068.00 |
| Custom Size | $0.264/sq.inch |
White Glove Service
At Shiny Prints, we deliver absolute customer service. We are there for you throughout the entire process. From custom-size prints to custom-shaped cuts, our team of in-house designers will work with you every step of the way, ensuring a successful print and cut. For unique installations, we will cater to your business with a hands-on approach. Metal prints will boost your business visibility with their dynamic colors, 3D-like imagery, and customized shape and size.