Mobile Ordering Process is Easy as 1-2-3
Ordering Your Metal Prints From Your Phone is Easier Than You May Think
As the world continues to grow and advance digitally, so do the methods for ordering products. Thankfully, mobile ordering your metal prints is just as easy as ordering your favorite latte.
Preserving precious moments, sharing an adventure, or adding a touch of chic flair to your modern home are common reasons why most people order physical prints. Metal prints, on the other hand, take it to the next level. Their durability makes them unrivaled to traditional prints, they are made from high-quality metal, they can be custom-cut, and they are simple to care for.
If you are ready to buy a print that will last you a lifetime and want to order from your phone, then this one's for you. The mobile ordering process is easy as 1-2-3. Continue reading for your tutorial along with the following:
CREATING YOUR SHINY PRINTS ACCOUNT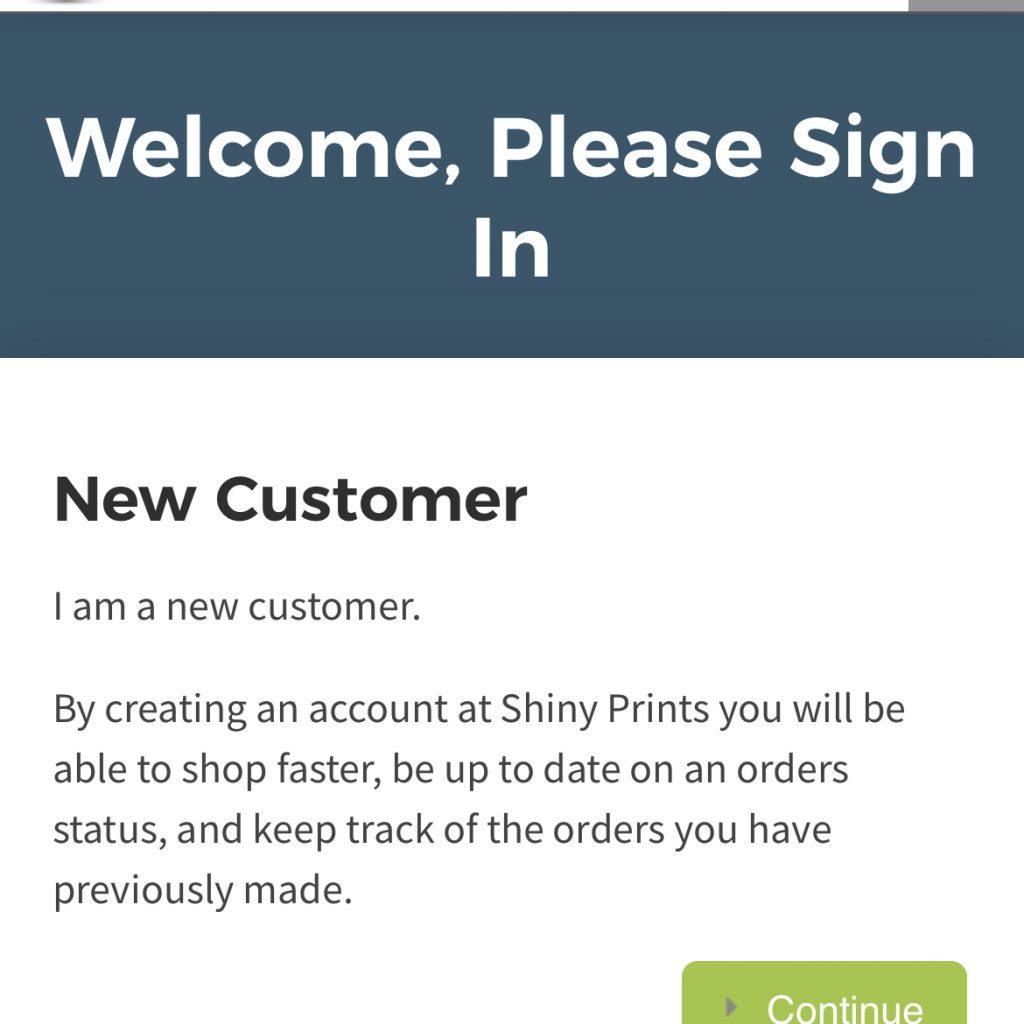 This is the first and easiest part. Creating an account is free, and it only requires your email address and a password of your choosing. Your account will have your order history and details to help you monitor your order. Simply click the "new customer" box, and you'll be good to go.
DOUBLE-CHECKING YOUR PHOTO'S DPI
Smartphones are exactly what they say they are: smart. However, up until a few years ago, their resolution was not. While the ideal resolution for a metal print is 180 DPI, our minimum is 100. It is important (and easy) to check your smartphone's DPI to make sure that it is no less than 100 DPI.
To find your DPI, you need to divide the pixel dimension by the inches of your print. You can find your pixel information with each photo. For iphones, simply (and gently) swipe your photo. There, you will see information below the photo that will tell you the information you need. For Androids, tap the three dots in the corner, and your information will pull down.
If your photo has 4032×3024 pixels, and your print size is 8×8, you will divide 4032 by 8 and 3024 by 8.
Your lowest number will be your DPI.
(Programs like Adobe Photoshop can also be utilized to change your photo's DPI should it be too small).
PHOTO UPSCALING
Photo upscaling is offered free from Shiny Prints. It is an AI system that enhances your photo's features by increasing its resolution and removing "noise" from the photo. It is simple and free to use at your discretion. You can utilize it before ordering your print, or sometimes you will be prompted to utilize it before you can continue. If you receive a pop-up message about your photo quality, it means the caliber of your photo isn't truly up to par for printing, but with your permission, the AI tool can upscale the photo.
MOBILE ORDERING TUTORIAL
---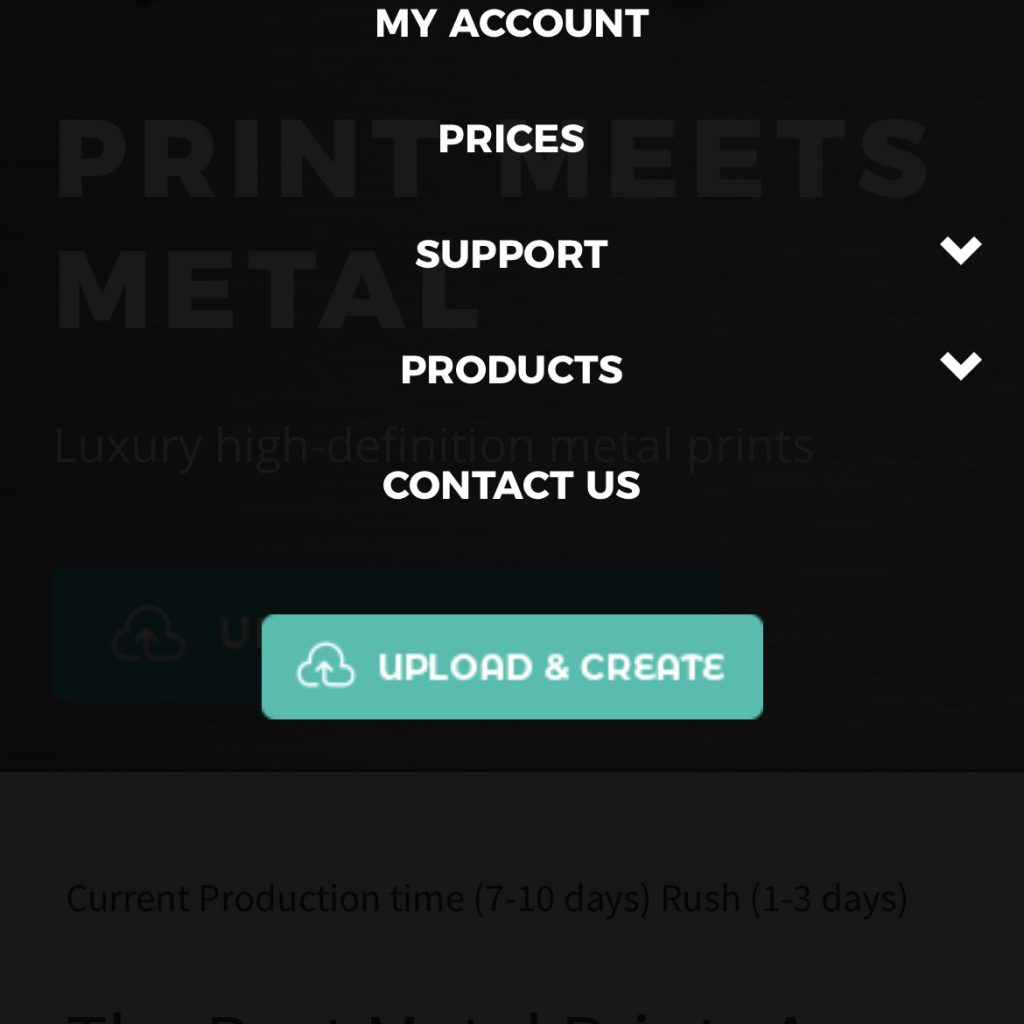 STEP 1:
Time to create your order.
You've made your account, so you are good to go. Now, you are going to click the "upload & create" button, which will take you to a new screen.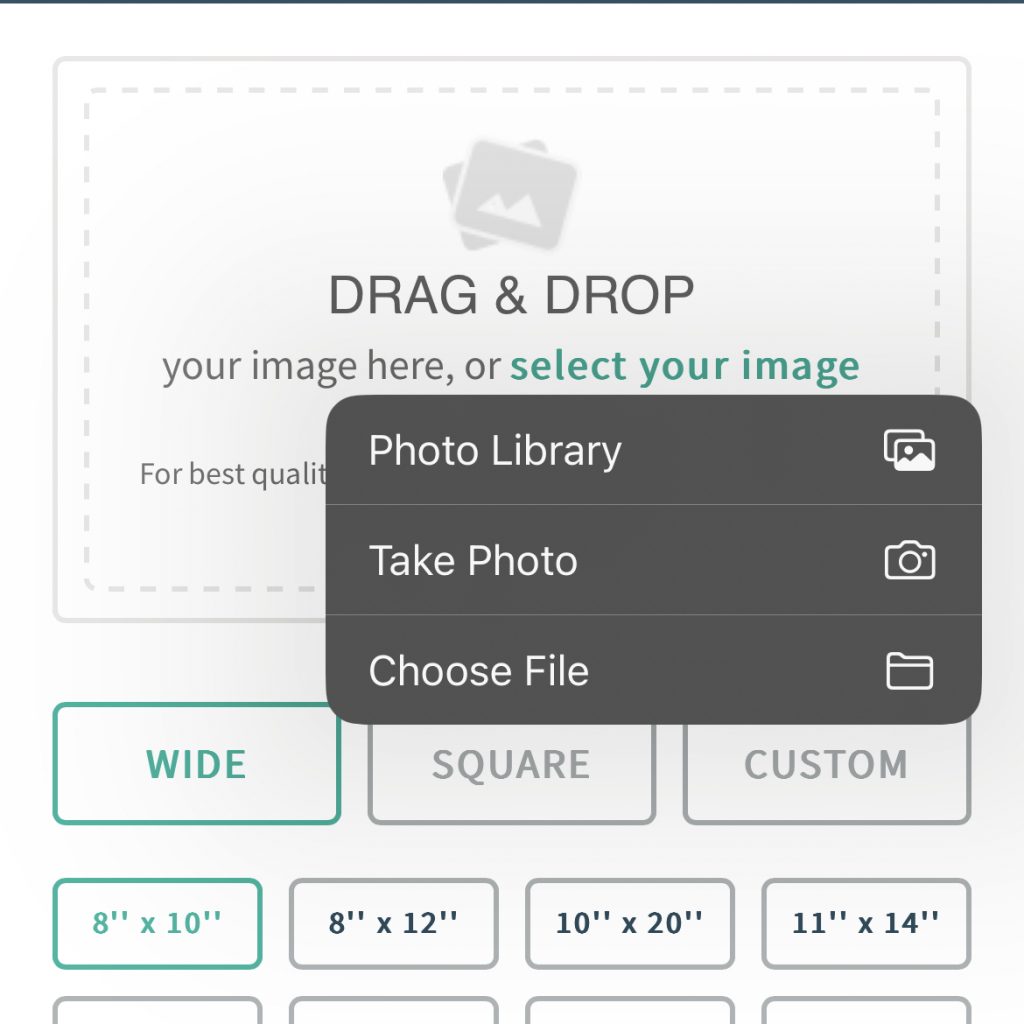 STEP 2:
Choose your photo.
Because it's a mobile phone, you want to click "select your image." Here, you will be given three choices to select your images from. You can capture a new photo, choose one from a file, or you can choose a photo from your library. Remember, an outdoor photo will have more resolution.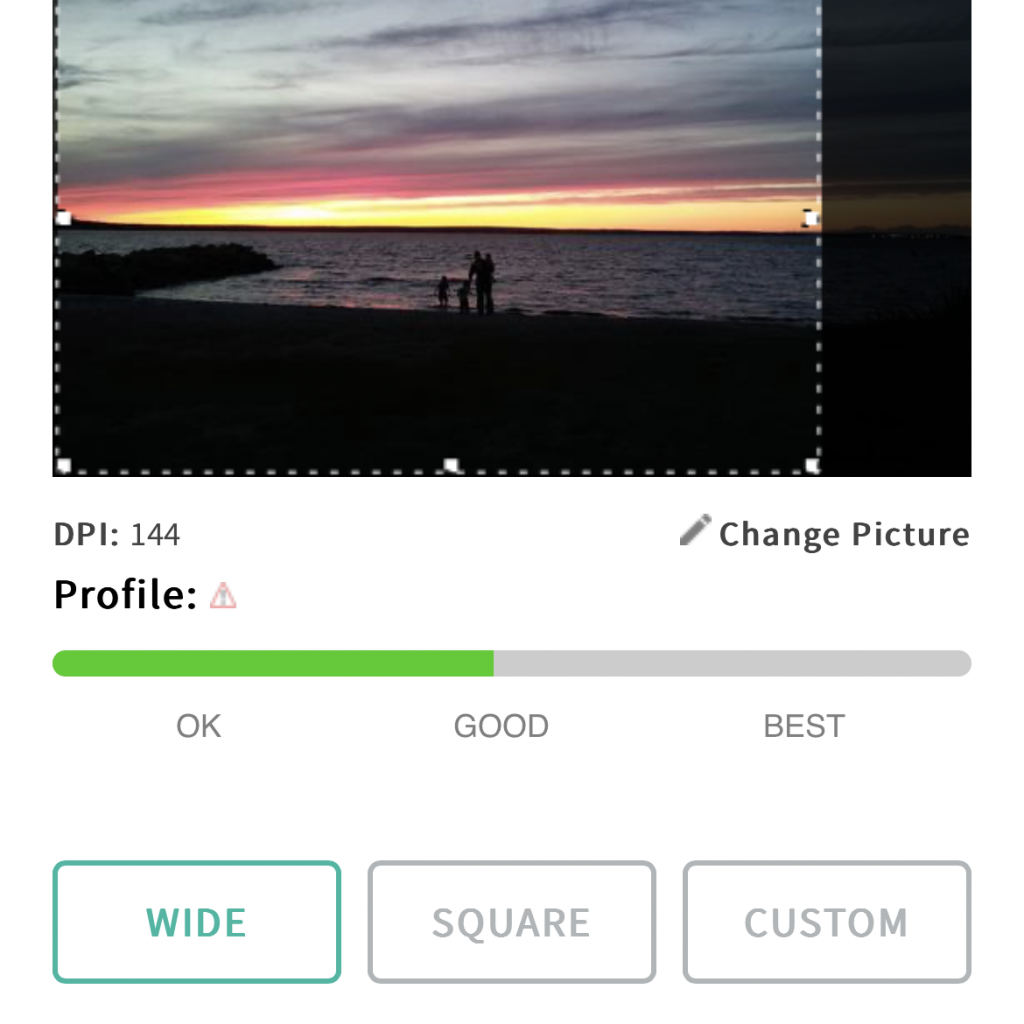 STEP 3:
Choose your size. There are a variety of shapes and sizes to pick from. Also, choosing your size will also help determine what the resolution will be. The larger the print, the lower the expected DPI. Also, most larger prints (especially landscapes) are meant to be looked at from at least four feet away.
STEP 4:
You chose your photo, you chose your size, and now you need to choose how your photo will be cropped. You can slide the crop box to crop the exact part of the picture you want to be printed. Next, scroll down and pick your crop type. You can decide if you're letting the system auto-crop, or you can select horizontal or vertical.
The choice is yours.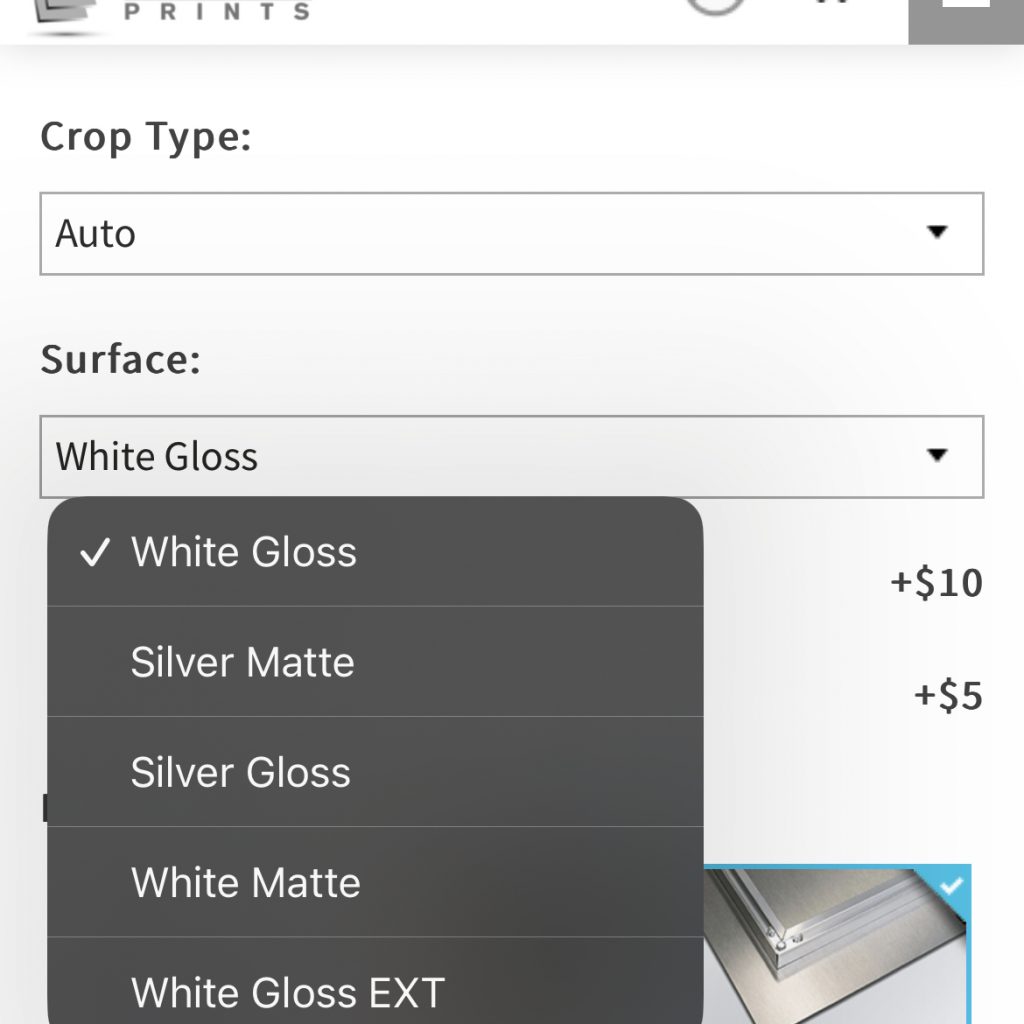 STEP 5:
Select your surface from the drop-down of our different surface options. Our most popular surface will be pre-selected, but you can change that. It is the surface printed on more than 90% of the time, so if this is your first time ordering a metal print, we highly recommend the white gloss surface to start with.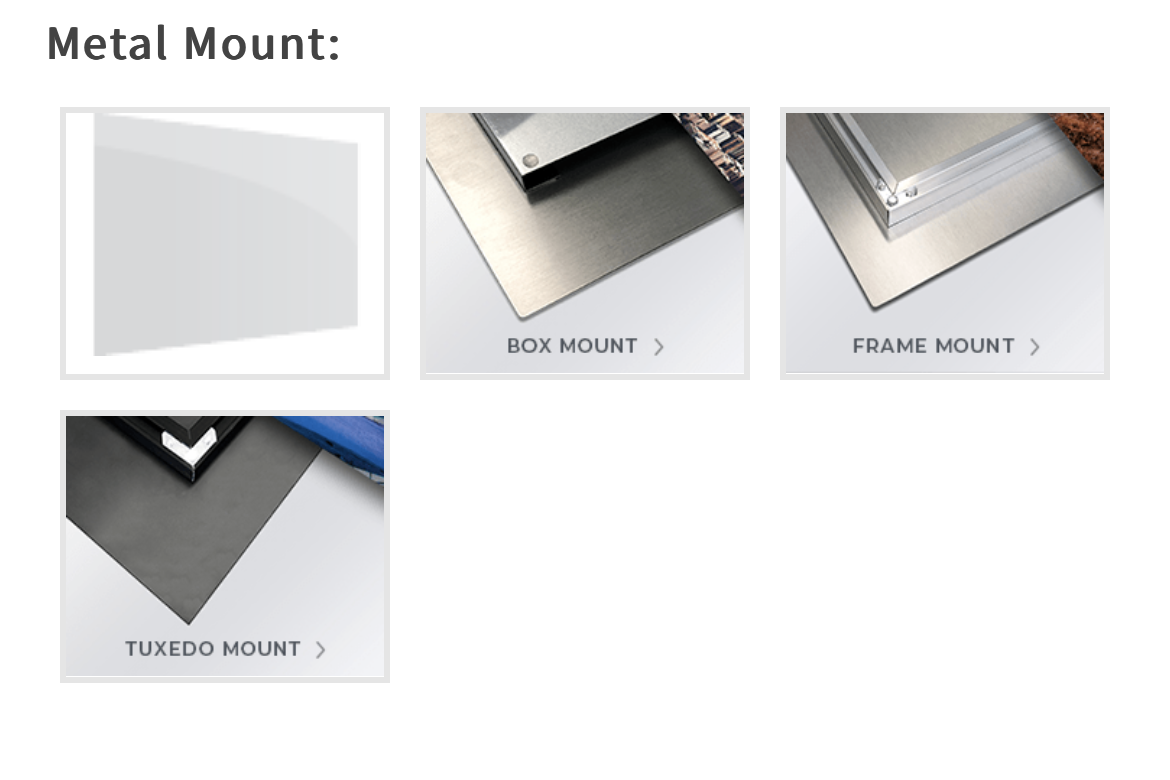 STEP 6:
Before you can add your print to your cart, you must select a mount option. You have the option to select no mount, box mount (best for prints smaller than 20″ x 30″), or you can choose other options such as the edge mount and tuxedo mount. After you select your mount, you will be adding your precious metal print to the cart.
FINAL STEPS:
After choosing your mount and adding your print to your cart, your shopping cart will give you two options: continue or checkout. Choosing continue means you can work on another print, and choosing checkout means you are done. You also have the choice to empty your cart and start the process all over.
In the checkout, you will choose your shipping and payment options. We accept credit or PayPal for payment, and you can choose whether or not you want your print shipped to you. Standard shipping is $20.00 whereas pickup is free. So, if you are local to Jupiter, Florida, come on down and pick up your print (when it's ready of course).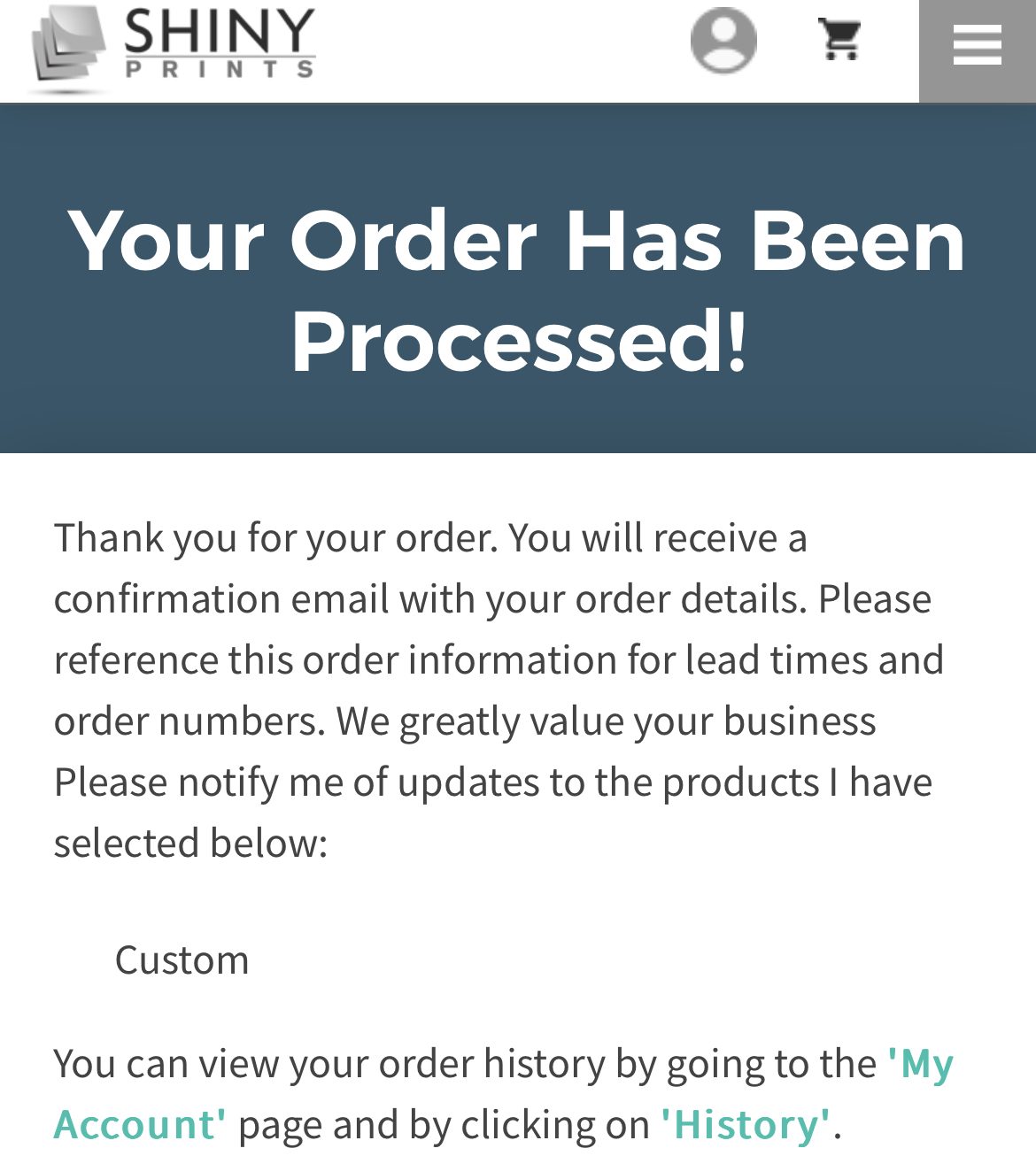 Quick Order: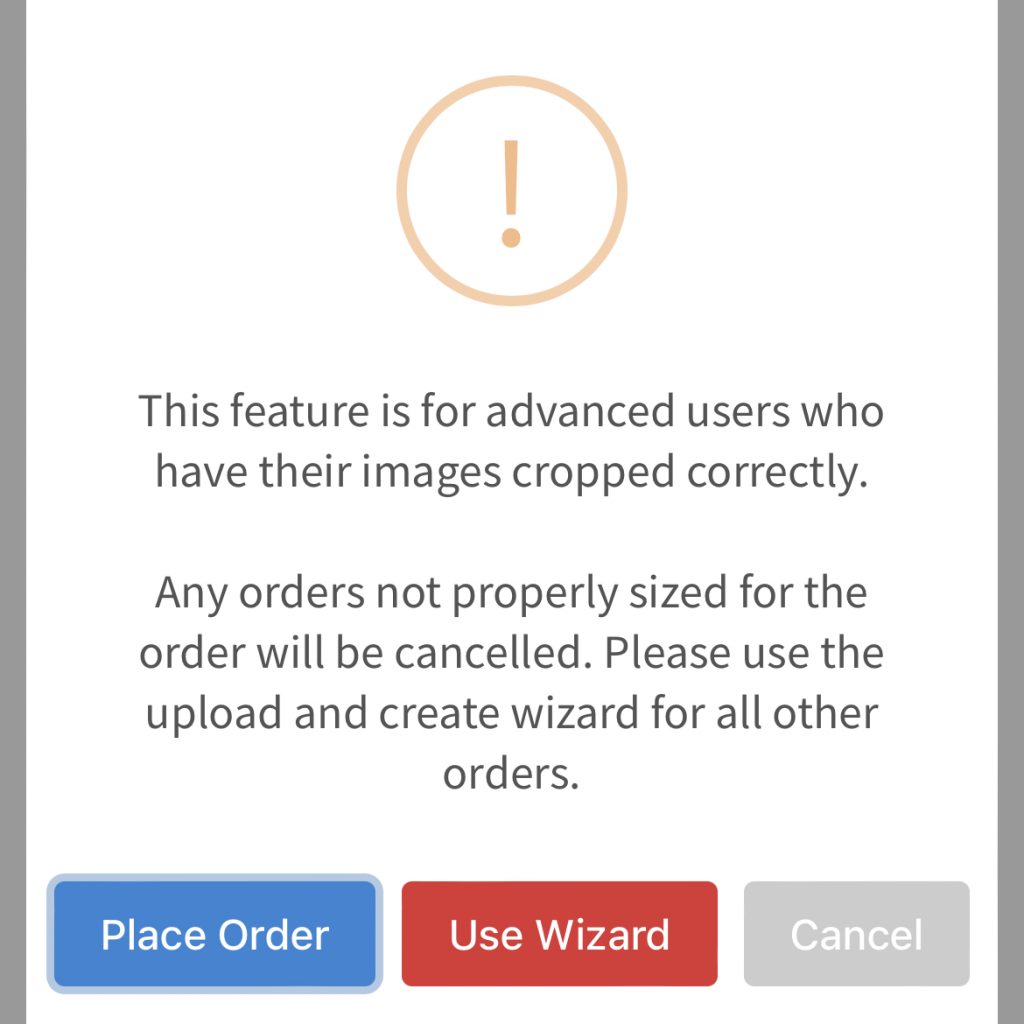 Quick order is another option you can explore if you have done this before and consider yourself a pro with mobile ordering. You must know exactly what you are uploading, the size, and the amount. There is no wizard in this part of Oz, so you need to have the brains to utilize this function on your own. It is great for a super quick order, but if you and your photos are not ready for it, it would be best to continue to go step-by-step.
WHAT TO EXPECT AFTER ORDERING:
In this microwave society, we understand many people ordering prints want them within the week, if not sooner. At Shiny Prints, quality products and customer service is our top priority.  We made the mobile ordering process easy as 1-2-3. Following our guideline will lead you to a great print that is made right. Our turn-around time truly depends on the size and nature of your order. Our standard processing speed is 10-14 business days, but there is a rush option to have your print within 3-5 business days. We understand this may seem long, but as they say, the proof is in the pudding. We don't want to rush your print because we take the correct amount of time to achieve a high-quality print with our process.
Our metal photo printing involves a dye sublimation process that requires both heat and pressure to transfer printed images onto the metal. This process (utilizing both the best ink and best printing equipment) produces the most elegant prints that are extremely durable, fade and water-resistant, and easy to maintain.
While it is fun to share a moment near and dear to your friends and loved ones on social media, the digital photo album has become a bit ubiquitous, and the physical act of printing and holding that proof is both more personable and meaningful. Our mobile order process is easy as 1-2-3, and With Shiny Prints Metal Prints, you are choosing quality over quantity. We only use ChromaLuxe metal prints, which means you are going to have prints that will last you a lifetime.
---